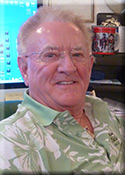 Sparky Taft is one of the best known and highly respected advertising, marketing and promotion people on the west coast.  Before entering the advertising agency business specializing in broadcast and internet advertising, Sparky was General Manager of 8 radio stations and owned his own station.  Sparky's broadcasting credentials include serving as one of two Washington broadcasters on the National Association of Broadcasters Congressional Liaison Committee; one of three Washington broadcasters on the Washington State Association of Broadcasters Political Committee; and, one of three Washington broadcasters to determine the Spokane World's Fair advertising and public service policies.
Sparky is also well known for his promotional exploits, many of which are detailed in one of his 5 books he has published, "Never Before, Never Again".
As an advertising agency, Sparky is widely recognized as one of the most successful advertising people on the west coast. In recent years, his advertising clients have spread nationally to include New York, New Jersey, Washington D.C., Baltimore, Detroit, Pittsburgh, Cleveland, Columbus, OH, Tulsa, OK, Austin, TX, Los Angeles, San Diego, Sacramento, Santa Maria, CA, Santa Barbara, CA, Paso Robles, CA, Bakersfield, CA, Phoenix, Tucson, Flagstaff, AZ, Salt Lake City, Denver, Portland, Seattle, Yakima, Tri-Cities, WA, Anchorage, AK and British Columbia.
Sparky Taft is also a well versed author, publishing 5 books, including his newest "Creating Greater RESULTS with Your Advertising".  All 5 books can be found on www.sparkytaft.com.